US urges China to stop lawyer and activist abductions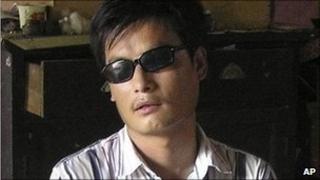 The United States government has called on China to stop what it calls the "extralegal" abductions and detentions of lawyers and human rights activists.
The US state department called on Beijing to uphold its internationally recognised human rights obligations.
Since the middle of February human rights groups say more than a dozen high-profile figures have disappeared.
They include Teng Biao, a law professor known for challenging abuses of power by the Communist Party and the state.
Teng Biao was summoned to a police station on 19 February.
Officers raided his home, took away computers and documents but issued no notice of his detention as required by law.
Anger and fear
Speaking in Washington, state department spokesman P J Crowley said the US government was "increasingly concerned by the apparent extralegal detention and enforced disappearance of some of China's most well-known lawyers and activists".
The lawyers include Tang Jitian, taken away from his home by police on 16 February, and Jiang Tianyong, seized at his brother's house three days later.
The campaign group Human Rights in China says it is "a concerted, large-scale crackdown with a severity rarely seen in recent years".
The US state department called on China's government to uphold its internationally recognised human rights obligations, including freedoms of expression, association and assembly.
Human rights groups say the disappearances may be linked to official anger at a video that surfaced last month filmed by the blind legal activist Chen Guangcheng, in which he showed how he is being held under illegal house arrest.
Other rights groups say China's authorities may be using the pretext of clamping down on any possible contagion from the revolutions in the Arab world to round-up many activists.
The organisation Chinese Human Rights Defenders says police have cast a wide net taking in internet bloggers who have posted or relayed messages about the calls for a Middle East-style popular revolution in China.
It is thought five of those detained for posting messages face criminal charges of state subversion that carry lengthy sentences.