Japan protest over 'dangerous' China helicopter fly-by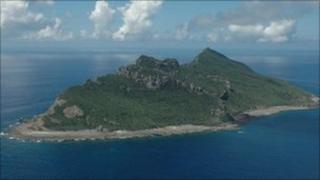 Japan has lodged a formal protest after a Chinese helicopter flew close to its destroyer in the East China Sea.
The Japanese ship was on patrol on Monday near a disputed gas field that both countries want to exploit.
It is the latest in a series of tense confrontations between Japan and its increasingly powerful neighbour.
Relations between the two nations have been strained since a row last year over the arrest of a Chinese trawler captain near islands both claim.
Japan's Defence Minister Toshimi Kitazawa called the aerial manoeuvre by the Chinese helicopter "extremely dangerous".
Officials say it flew within 70m (230ft) of the Japanese destroyer, Samidare, at an altitude of less than 40m.
The ship was on patrol near a long-disputed gas field, which stretches into an area where the two countries' claimed exclusive economic zones overlap.
Last week Japanese F-15 fighters were scrambled after Chinese aircraft were spotted approaching the Senkaku islands in the East China Sea.
China claims sovereignty over what it calls the Diaoyu islands.
In September, the arrest of a Chinese trawler captain after a collision nearby led to Beijing breaking off top-level contacts with Japan.
Trading houses in Tokyo said exports of rare earths vital to Japanese industry were also blocked.