New Zealand quake boulder 'Rocky' sold to help victims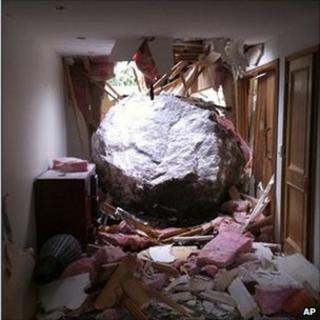 A Christchurch resident whose house was smashed by a car-sized boulder in the 22 February quake has sold it at an online auction for NZ$60,500 (£27,652).
When the earthquake struck, one of the many hazards came from boulders hurtling down the steep escarpments and hills that edge parts of the city.
A 25-tonne boulder crashed through the garage roof of Phil Johnson's home and left it in ruins.
Mr Johnson dubbed it "Rocky". The money will be used to help quake victims.
Photographs of the boulder sitting in the midst of the devastated suburban home in Heathcote Valley provided one of the most arresting images from the disaster and featured in media reports around the world.
It even had its own page on the social networking site Facebook.
To raise money for victims of the earthquake, Mr Johnson decided to auction it online, describing it as being in pristine condition - save for a little bit of concrete dust - and suitable as a garden ornament.
The boulder attracted more than 50 bids, and was eventually auctioned off to a company that promotes New Zealand ski fields, which plans to show it off in the car park of one of its resorts.
Mr Johnson told the BBC that at first his idea had not been to raise money.
"It was basically therapy. I guess it was somewhat cathartic for myself and it proved to be therapy.
"It basically turned into a huge question session where people were pouring out their hearts and we had poetry and we had a lot of humour and it wasn't really an auction at all.
"It was just a bunch of people talking about how proud they were to be Kiwis and how they loved the humour and all this sort of thing. It was very moving I guess."