China's intimidation of the foreign press
By Damian Grammaticas
BBC News, Beijing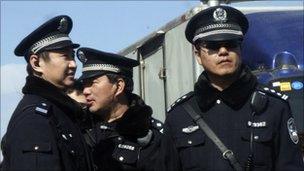 It wasn't even 6am this morning and Chinese police were knocking at the doors of foreign correspondents based in Beijing, demanding to see press credentials.
The moves are part of what appears to be a concerted campaign launched in recent days to monitor and intimidate foreign reporters in China.
Fears about the revolutions in the Arab world spreading here seem to have induced a state of paranoia in the internal security services.
For the past three weekends huge numbers of police and plainclothes security personnel have flooded sites in major cities where anonymous calls on the internet have asked people to stage silent "strolling" protests.
What's new is the way the police have turned on foreign journalists.
The sort of tactics being used are toned-down versions of those China's extensive and repressive public security apparatus usually deploys to intimidate and silence Chinese citizens whom the authorities see as threats to "social stability".
Usually they target people seen as threats to the Communist Party's control.
Here's an idea of what's been going on:
On Sunday in Shanghai police rounded up about a dozen European and Japanese reporters when they tried to see if any strolling protests would happen outside the Peace Cinema in People's Square. They were taken to an underground bunker and held there for a couple of hours.
In Beijing a team of seven plainclothes security men spent the weekend following and filming one American correspondent, even to a basketball game. Four other correspondents reported their apartments were monitored by plain clothes officers too. Several more correspondents were trailed around town.
Police have visited about a dozen reporters at their homes in Beijing and telephoned others. They include British, American and European correspondents. Some have been warned not to cause trouble. In one visit, the New York Times reported the message was not to try to "topple the party". In another the landlord was summoned and made to sign a pledge that their journalist tenant would not disturb "social order".
At least four correspondents have had their e-mail accounts hacked and e-mails forwarded to unknown addresses. Many more have had targeted e-mails sent to them containing computer viruses.
Many correspondents have been called in by the police and the Ministry of Foreign Affairs. Some have been warned that their journalist visas will be cancelled and they will have to leave China if they report on the "strolling" protests. Some journalists have been told that reporting from anywhere in central Beijing now requires a permit.
It follows the physical violence against journalists trying to report from the protest site in Beijing a week ago.
An American correspondent was punched, kicked and beaten in the face by plainclothes security men. Uniformed police looked on. He was then dragged inside a building and the beating continued for more than 10 minutes. He sustained serious injuries.
The same day our BBC team were talking with uniformed officers when plainclothes policemen wearing earpieces seized us, dragged us away, and violently threw us into a police van.
They deliberately slammed the door on my leg several times.
One of the plainclothes men involved was spotted this week on duty alongside uniformed officers outside the opening session of China's National People's Congress. He was wearing official security ID.
This Sunday our BBC team who went the shopping district of Xidan, site of another possible protest, met with polite requests to show our ID.
Hundreds of police and plainclothes security were on duty, uniformed officers swarming the streets, and every few yards, plainclothes men and women loitered, wearing earpieces and watching everything from behind bushes and pillars.
We were filmed on multiple video cameras and followed closely by teams of plainclothes watchers.
They even shadowed us into the children's section of a giant bookstore, picking up children's books and glancing over at us as they pretended to read.
They followed us round every shelf and display. The bookshop too was teeming with state security personnel.
There were many ordinary Chinese out shopping and strolling. But since foreign journalists have now been banned from filming or interviewing on the street at the protest sites we can't say if any were protesters.
It is quite possible that none were. We simply don't know.
Intrusive surveillance and pressure on families, employers or landlords is a tactic often used against Chinese dissidents.
Human rights advocates have told me that they have sometimes been made to move home every few months as their landlords, intimidated by the police, turf them out. As soon as they find a new home, the police get heavy with their new landlord.
Today at the National People's Congress, China's Foreign Minister Yang Jiechi was asked about the physical attacks on foreign correspondents.
His reply was: "There is no such issue as Chinese police officers beating foreign journalists."
Also this weekend, new figures showed that China is now spending more on law enforcement and internal security than on its military.
In the coming year the government plans to spend $95bn on police, militia, state security and the penal system, an increase of 13.8% on last year. The figure for the military is $91.5bn, up 12.7%.
The spending, the heavy-handed response to the calls for protests like those in the Middle East, and the targeting of foreign journalists all seem to be driven by the same motive, to ensure "social stability" above all else.
As China's Communist Party is watching what is happening in the Middle East the overriding impression is that it is fearful of similar unrest here, and fearful at the power of the media - and television in particular - to shape those events.
So the security services, who are leading the drive to prevent any contagion from the Middle East, seem to be starting to view journalists as a threat similar to internal dissidents.
China doesn't have a free media of its own, and few in the government seem able to believe that foreign reporters are here simply as witnesses to what happens in China.
Few in the Chinese public believe that foreign reporters like Mr Grammaticas are here simply as witnesses. Another word of advice: if you don't follow police orders, then you'll be manhandled - it's their job to enforce the law and take care of lawless people. (Wayne, USA)
Well done Damian Grammaticas; you are exactly what the Chinese state fears - a brave, objective and persistant journalist who values the importance of free speech and reporting, and who will tell it like it is, despite such paranoid hostility against you. (Gabriel, London)
Perhaps the reason the foreign journalists feel so "intimidated," is because they aren't following the old axiom "When in Rome, do as the Romans do." The Chinese state reporters obviously are not allowed to cover certain events, i.e. they do not have the same type of "freedom of the press" as other countries do. Why, then, would foreign journalists be granted different rights? (V Rout, Washington)
This is the sadly inevitable consequence of the failure by the international community (and especially the IOC) to act before the Beijing Olympics to ensure that China obeyed the spirit of its human rights promises made when it was awarded the Games! Sadly we will see the same for FIFA and the World Cup in Russia, etc. All UN member countries actually sign up to the Declaration on Human Rights but many then seem to ignore their obligations and we foolishly let them get away with it! (Elaine, Scotland)