Vietnam boat firm fined over fatal sinking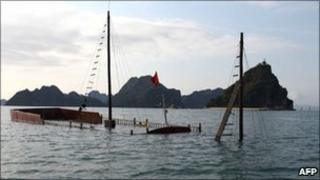 A Vietnamese tour company has been suspended and fined over the fatal sinking of one of its boats last month.
Police blamed human error for the incident, which left 12 people including 11 foreign tourists dead.
The AZ Queen Company was fined 15m dong (£440; $700) and ordered to suspend all domestic and international tour services for operating without a tourism license, officials said.
The vessel's captain and a crew member were arrested for negligence.
The wooden boat was touring the Unesco World Heritage Site in Quang Ninh province when it went down.
An initial police investigation found that a valve that allowed water to come into the boat to cool the engine had been left open overnight.
The engine was turned off, preventing a pump from running to push the water out.
By the time the captain and crew woke to find the boat filled with water, it was too late and the vessel sank quickly, police said.
All 12 people who died were in cabins on the boat. The victims included a Vietnamese guide and holiday-makers from the UK, US, Australia, Japan, Russia, France, Sweden and Switzerland.
Another nine foreigners and six locals were rescued from the boat.
The boat - named Bien Mo (Dream Of The Ocean) - was anchored alongside dozens of other cruise boats and weather conditions were said to be calm at the time of the sinking.
Halong Bay, renowned for its hundreds of tiny islands and freshwater swamp forests, is one of Vietnam's most popular tourist destinations.
It is near the Chinese border in the Gulf of Tonkin, about three hours east of the capital, Hanoi.