North Korea offers talks to South on return of refugees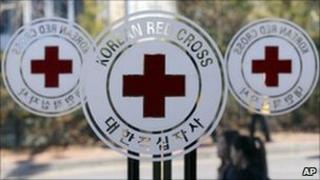 Pyongyang has suggested talks, set for Wednesday, to break the deadlock with South Korea over the repatriation of a boatload of North Koreans.
It is more than a month since the fishing boat drifted into South Korean waters in thick fog.
The group has been in limbo because four of the 31 people on the boat are said to want to defect to the South.
They have been deceived, says North Korea, which has refused to accept any of the group until all 31 are returned.
Since their arrival in the South, those on board have been questioned about life in the North, and whether they wanted to defect.
Pyongyang has asked that the four would-be defectors attend the talks, so they can confirm in front of relatives brought to the meeting by the communist North that they want to remain in the South.
A defectors' group, based in Seoul, said families left behind by those fleeing the totalitarian North usually face reprisals, including a possible stay at a prison camp.
Free choice
South Korea's government has refused to take the would-be defectors to the talks, saying their free choice has been checked by a third party.
The remaining 27 people who were on the boat are currently in limbo.
When they were taken to the heavily fortified border to be allowed to return home on Friday, officials from the North did not come to meet them.
The North has insisted the other four have been deceived and threatened into defecting - and is demanding that the group be repatriated in its entirety.
Commentators in the South's media have suggested the situation may be being used tactically by Pyongyang, as a military stand-off last year has, for now, subsided into a diplomatic one.
In recent days, Seoul has accused North Korea of attempting to jam military equipment, including GPS systems, as large-scale military exercises are being carried out by the South with its ally the United States.
The North describes the drills as a rehearsal for invasion.
Officials are also investigating whether a cyber-attack on key government, military and business websites in South Korea on Friday was orchestrated by the North.