Taiwan executes murderers amid death penalty debate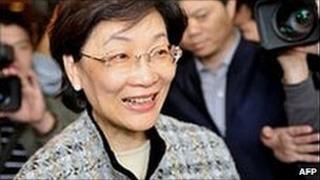 Five convicted murderers have been executed in Taiwan amid a growing national debate on whether to abolish the death penalty.
The government, along with religious and human rights groups, opposes capital punishment but most victims' families are in favour of it.
Surveys show most of the population also support the death penalty.
Taiwan's government adopted an informal moratorium on executions in 2005, but dropped it following an outcry.
In the 1980s and 1990s Taiwan put to death 505 criminals - a figure which dropped to 36 over the past decade.
Instead, judges were given the ability to sentence violent criminals to life in prison.
But last year, Taiwanese justice minister Wang Ching-feng was forced to resign following an outcry from victims' families when she tried to insist on extending the informal moratorium on the death penalty.
Four convicts were executed, bringing the moratorium to an end.
On Friday, the new justice minister signed the execution orders for another five.
Forty more convicts remain on death row. An official in the justice ministry told the BBC that although the government wants to eventually end the practice, it must first win over the public.
To that end it is increasingly involving victims' families in the trial process. By allowing them to vent their anger at the murderers, and allowing them to hear the background of those convicted, the hatred of some families is reduced.
The hope is that, in time, people will learn to respect all human lives, even those of murderers.
But it is not a simple matter.
One of the five men executed on Friday - a rapist and murderer - had been on death row for 10 years.
He had pleaded to be executed, saying it was a waste of taxpayers' money to keep him alive.