Kazakhstan election campaign begins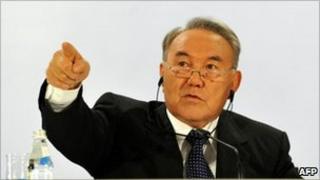 Kazakhstan's presidential election campaign has kicked off, with four candidates, including incumbent Nursultan Nazarbayev, competing for the top job.
Last month, Mr Nazarbayev - ruler of the oil-rich nation for 20 years - called a snap election for 3 April.
The country has no history of free and fair polls, and he is expected to win.
Opposition parties are boycotting the elections, which they say will simply be a shoo-in for the president.
Four candidates are launching their campaign on Thursday but only one - the president himself - needs no introduction in Kazakhstan.
Nursultan Nazarbayev has been ruling the country since its independence from the Soviet Union in 1991.
The other three candidates are not expected to pose any real challenge.
In December and January, Kazakhstan's one-party parliament toyed with the idea of a referendum that would have allowed the president to extend his rule until 2020 without elections.
When Mr Nazarbayev announced early elections in February, Egyptian protesters were locked in a struggle to overthrow their long-serving leader.
Some observers in Kazakhstan wondered whether by calling for early polls Mr Nazarbayev was taking revolutionary fervour in the Middle East into consideration.
No elections in Kazakhstan have ever been recognised by independent monitors as democratic.