Journalists 'must co-operate with China'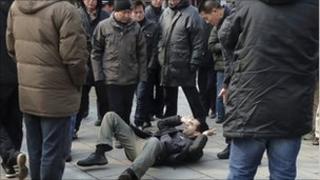 China's Foreign Ministry has called on journalists to "co-operate" with police after several reporters were roughed up during a crack-down on calls for anti-government protests.
Staff from major international news organisations including the BBC were detained in Beijing after gathering at the site of a proposed protest.
The protest idea was apparently inspired by events in the Middle East.
One journalist received medical treatment for his injuries.
A Foreign Ministry spokeswoman said that the journalists had been detained after breaching reporting restrictions.
But she refused to specify which procedures had been broken, other than saying the reporters had been obstructing the traffic flow.
Many foreign journalists had gathered at a busy shopping district in Beijing on Sunday to cover anonymous online calls for anti-government protests there.
No demonstrations were witnessed.
The authorities, however, launched a massive security clamp-down with hundreds of uniformed and plainclothes police swarming the streets.
Some of the men then started aggressively pushing away foreign reporters and briefly detained several of them.
The clamp-down was condemned by the US ambassador in China as "harassment".
While some overseas websites have called for anti-government protests in China there are no indications that they will gain any popular support.
But the authorities here are concerned that events in the Middle East could inspire social unrest in China.
They have censored searches about it on the internet and detained several well-known dissidents.