Japan seeks exam hall phone ban after cheating claims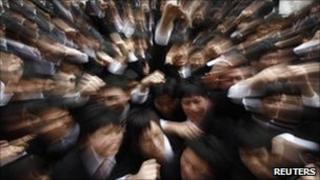 Japan's government is to ask universities to ban mobile phones from entrance exams after allegations of cheating using the internet.
Questions from Kyoto University papers were posted on an internet forum at the weekend while the exams were taking place.
The police have begun a criminal investigation.
Entry to Japanese universities is so competitive that teenagers live in dread of what is known as "exam hell".
But now there is suspicion that technology has been used to subvert the process.
Eight questions from Kyoto University's maths and English papers appeared on a popular Yahoo Japan internet forum while the exams were taking place.
Other users of the chiebukuro, or "pearls of wisdom" site, suggested answers.
The same person had earlier posted questions from exams for three other top universities.
With nearly a quarter of a million students due to sit entrance exams next week, Japan's government has urged universities to tighten up their invigilation.
Meanwhile, the police in Kyoto are examining papers submitted in the two exams to see if candidates' answers match those posted on the internet.
Detectives have also asked Yahoo Japan to provide IP addresses which may help them identify the suspect's mobile phone.