Chinese cities mull registration reform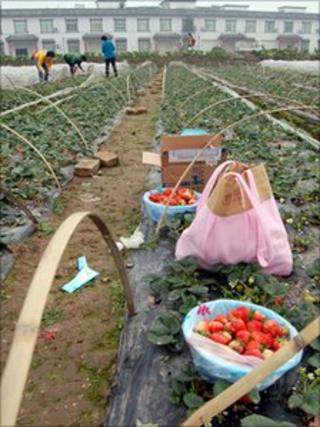 The village of Wa Yao, just outside the city of Chengdu, is known for its strawberries, which grow in neat rows in fields between the houses.
People from the city come to pick their own and some of the early, high-priced strawberries are sold in markets as far away as Singapore.
But Wa Yao is also known for something else: Chengdu's city government is using the village to try out a series of pioneering changes.
China's household registration system, or hukou, has long separated people into either rural or urban citizens, with those in the cities usually getting better services.
Chengdu though is trying to get rid of that distinction, providing the villagers of Wa Yao with the same rights and benefits as those in cities.
It is one of a number of places across China experimenting with hukou reforms. But not every local authority is equally enthusiastic.
Some cities, such as Beijing, have introduced policies that could entrench the hukou system and all the prejudices that go with it.
Reform pledge
China has a long history of controlling the movement of its people.
Imperial dynasties had rules that limited travel - rules that the communists simply extended when they took power after 1949.
But the unfairness of the hukou system became increasingly apparent after China embarked on economic reforms that encouraged farmers to travel to the cities to seek higher-paid work.
Millions moved and, while their labour has been welcomed, they have not been able to enjoy the same rights and benefits as residents who are registered in the cities.
At China's annual parliamentary session last year Premier Wen Jiabao promised the government would introduce reforms.
But, as this year's parliament sits, little has been done, according to Professor Hu Xingdou, an expert on the hukou system at Beijing's Institute of Technology.
He said there had been no nationwide initiative and the central government had not provided money to fund local projects.
It has been left to individual cities to decide how to reform - or even whether to.
Improved benefits
Officials in Chengdu announced at the end of last year that they plan to integrate urban and rural household registration schemes by 2012.
Farmers who move to the city will be given the same access to services as people who already live there.
Welfare benefits will also be improved in rural areas to reduce the gap in standards of living between town and country.
Wa Yao, the village just outside Chengdu, is a test case. Chengdu officials have given villagers the same rights to services as people in the city.
Village resident Mu Jiang seems to epitomise the new kind of citizen Chengdu is trying to create - he is neither urban nor rural.
He was born in Wa Yao and has a business there, running a training centre that holds bonding sessions for office managers.
He also has a business in Chengdu selling trees and plants.
"There's still a gap between rural and urban areas, but it's getting smaller very quickly," said Mr Mu.
"That applies to transport, communications, healthcare, education and many other things. In the past country people envied those in the city. But now some rural areas are even better than the towns."
Special privileges
But some cities, such as Beijing, have introduced policies that appear to make life harder for migrant workers, rather than making their lives more comfortable.
The Chinese capital fears its population is already too big, without encouraging more people to stay.
City officials recently announced a ban on renting out basements, cellars and old air raid shelters - just the kind of cheap accommodation that migrant workers live in.
They have also placed restrictions on buying homes and cars, with stricter rules for people without a city hukou.
"Beijing cannot continue to develop into a kingdom with special privileges, a place that only welcomes the best kind of people," said Prof Hu.
The city's reluctance to allow outsiders to legally become full residents affects the lives of migrant workers who toil there.
Prof Hu estimates that there are between six and 12 million people living and working in Beijing without a hukou.
One of them is Zhang Zhenyun, who has lived in the capital for 18 years. He owns a small company making costumes that look like cartoon characters.
He now calls Beijing his home - and pays taxes here - but he still cannot get a hukou. He is registered in his home city of Zhengzhou in Henan province.
His wife Cui Xin lives with him, but the lack of a Beijing registration means their 17-year-old daughter has to go to high school in Henan.
"Of course it affects me. My daughter's studying alone back in our home province, while we're here in Beijing. We can't care for her - or help her with problems at school. It's such a shame," said the 39-year-old.
His wife seems resigned to the situation, like many others in her position. "It's no use being angry - that's just the way it is," she said.
That may be the case now, but migrant workers and rural people will probably not always think this way.