Former Fiji minister to seek asylum in Australia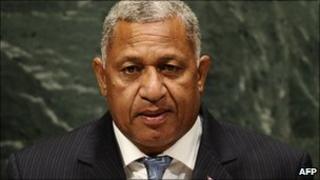 A former Fijian government minister, Samisoni Tikoinasau, has said he will seek political asylum in Australia.
Mr Tikoinasau, also known as Sam Speight, was in the cabinet of the previous government, deposed in a 2006 military coup led by Frank Bainimarama.
He was arrested and beaten last month for distributing an anti-government DVD to villagers in his former electorate.
Amnesty International says the human rights situation in Fiji is worsening, with government critics being abused.
Mr Tikoinasau has been receiving treatment at a Brisbane hospital after fleeing to Australia on a tourist visa, according to an Australian newspaper report.
"I will be talking to Australian authorities about seeking political asylum; others from my country have had to do it," he was quoted as saying in The Australian.
"I will return to Fiji once democracy is restored."
Mr Tikoinasau is the brother of George Speight, who led a coup in 2000 and is now imprisoned in Fiji.
'Climate of fear'
In a recent statement, Amnesty International said the severe beating of government critics amounted to torture and indicated that the human rights situation in Fiji was worsening.
"Human rights activists in Fiji have given us harrowing accounts of how politicians, trade unionists and government critics have been taken to military barracks, beaten and detained for days without being charged," said Amnesty's New Zealand branch.
"Ongoing censorship of the media and threats, intimidation and attacks against government critics continue to evoke a climate of fear in Fiji," the rights group said.
Canberra has strongly criticised Fiji's military regime, which came to power in a 2006 coup and has since imposed a series of repressive measures.
Emergency laws were enacted in April 2009 after the government of Commodore Frank Bainimarama dropped the constitution and sacked the judiciary.
Since he took power, Fiji has been expelled from the Commonwealth and the Pacific Islands Forum. The European Union, the United States, Australia and New Zealand have all imposed sanctions.
Australia and New Zealand have seen their representatives expelled from Fiji.
The two countries have urged Mr Bainimarama to return to civilian rule as soon as possible, but he has said elections will not be held before 2014.