Sir Jack Brabham obituary: The man who built his own winning car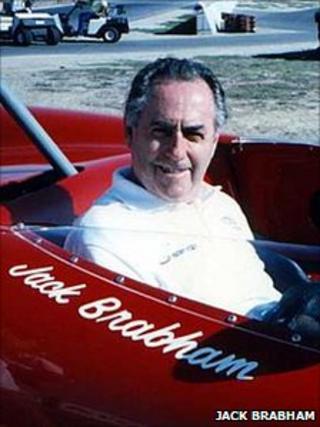 Sir Jack Brabham was one of motor racing's great figures. He was three times world champion and a lasting influence in car construction.
Young Brabham's place in the heart of Formula One fans was assured as long ago as 1959. The venue was Sebring in the United States, and the new kid on the starting block was on the verge of clinching his first world championship.
After 41 laps and 500 yards from the finishing line, Brabham ran out of fuel.
He summoned his considerable upper body strength to push his Cooper-Climax over the line and became the only man to take a Formula One world title on foot.
Brabham's prowess the following year proved irresistible. With five wins in succession, he regained the world championship, again in a Cooper.
The car's designer, John Cooper, called the Australian giant "the wiliest man in motor racing".
Banned for an unfair advantage
A former student of mechanical engineering and a wartime Royal Australian Air Force flight mechanic, Brabham had come to England as a touring owner-driver in 1955 and built his own F1 car in time for the British Grand Prix.
By 1960, he was two-times world champion, but felt his engineering instincts were unused. Brabham decided to forge a new career as a car constructor.
With fellow Australian Ron Tauranac, Brabham set up Motor Racing Developments.
Dan Gurney brought the team its maiden victory at Rouen a year later, but Jack was not finished with the track himself.
Racing heritage
In 1966, the veteran emerged from semi-retirement to claim his third world title. He remains the only driver ever to do so in a car bearing his name, but Jack always paid tribute to the teamwork behind the cars.
Both Ron Dennis and Gordon Murray of the celebrated McLaren team are ex-Brabham mechanics.
The following year Jack's team mate Denny Hulme won a second world championship for Brabham, again with the Repco V8 engine.
Brabham cars won a further two world titles in 1981 and 1983, this time with Nelson Piquet in the driving seat, and with the team under the mighty auspices of racing supremo Bernie Ecclestone.
Jack Brabham himself retired from driving in 1970 and sold his team shares at the same time. However, he never lost his passion for the track and, as seems familiar with motor racing, instead passed it on to his sons.
History-making
All three have enjoyed notable success in different fields of the sport.
When his son, David, was installed in a later incarnation of Jack's former team, his father found unbelievably exciting the concept of "another Brabham in a Brabham".
In April 2000, the daredevil dynasty made history in Adelaide, when Brabham lined up on the grid with two of his sons. The third was prevented from taking part by his Le Mans contract, but took part in demonstration laps.
Knighted in 1979, Brabham saw no reason to slow down, and later joined forces with the engineering company Mayflower to work on producing a cleaner car engine.
Yet still he continued to race. In 1999, he cut a deal with the nurses to get out of hospital after crashing at 100mph on the Goodwood circuit.
"I can't remember what happened," he admitted, "but apparently I came sixth out of 25, which wasn't bad as I ended up against a wall."