South Korea intercepts North Korean boat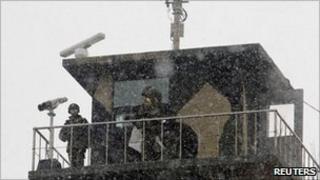 South Korea has intercepted a North Korean fishing boat a few kilometres south of the disputed sea border and close to Yeonpyeong island, which was shelled by the North last year.
The 31 people on board are being questioned by South Korean officials.
It is unclear if they are defectors or whether their vessel inadvertently drifted south in thick fog.
It comes on the eve of preliminary military talks between the two Koreas, following weeks of high tensions.
The wooden fishing boat carrying 11 men and 20 women was spotted by the South's military near Yeonpyeong island in thick fog on Saturday morning, a Seoul official said. The vessel was then towed to the western Incheon port.
"So far, the North Koreans have not expressed a wish to defect," the official from the South's Joint Chiefs of Staff was quoted by South Korean news agency Yonhap as saying.
The official said that the North Koreans were workers and not family members, adding that no children were on board.
"Given the circumstances so far, they might have been drifting after setting the wrong co-ordinates or losing power on their boat," another military official was quoted as saying.
The incident comes ahead of the first talks between Seoul and Pyongyang since the North's deadly shelling of Yeonpyeong island last November, in which two civilians and two marines were killed.
The North said it attacked after it was provoked by a South Korean artillery drill in the area.
Tuesday's military talks are expected to set the time and agenda for higher-level talks, possibly at ministerial level.