Laos Hmong leader Vang Pao denied Arlington burial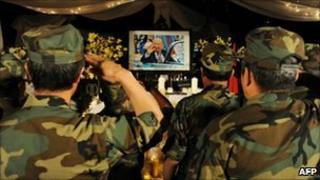 The US Army has rejected a request for ethnic Hmong leader Vang Pao to be buried with full military honours in Arlington National Cemetery.
Gen Pao led a 15-year CIA-sponsored secret war in Laos during the Vietnam War and, when it was lost, led tens of thousands of his people into exile.
He died last month. The army's decision came as mourners attended the first day of a six-day funeral in California.
Gen Pao's friends said they would appeal to the White House.
"Obviously to everyone who is here today to honour Gen Vang Pao, this is very disappointing," said Congressman Jim Costa, who led a group of lawmakers to lobby for the general to be buried alongside US soldiers in Arlington.
"He is not just a hero to the Hmong people. He is a hero to those American men and women who served with him in Vietnam."
A spokesman for the Pentagon, Gary Tallman, said the request had been thoroughly reviewed but that the board had unanimously decided he did not meet the criteria for burial in the cemetery.
'Hmong father'
Military veteran Charlie Waters, a friend of Gen Pao's, said he had been given "a lame excuse that it would take the place away from an American serviceman".
"So we're appealing to the White House," Mr Waters told AFP news agency, adding that he had offered to give up his own plot.
It was not immediately clear where Gen Pao would now be interred.
Vang Pao died at the age of 81 in January in Fresno, California, a centre of the Hmong community in the US.
Tens of thousands of military and Hmong mourners have gathered in the city for his traditional funeral.
"We would not be here in this country without him," said Shoua Vang, 52, who had travelled from Illinois.
Vang Pao commanded thousands of guerillas in an American-backed force during the 1960s and 70s.
As a young man, he had fought against the Japanese during World War II, and with the French against the North Vietnamese in the 1950s.
But he was a controversial figure, deeply loved by many Hmong - an ethnic minority in Lao that complains of persecution - for his insistence on freedom from foreign domination.
Critics say that by allying himself with the US, Gen Pao caused his people untold suffering - something that he himself recognised.
In his later years, he was accused of supporting a new rebellion in Laos.
Former Central Intelligence Agency chief William Colby once called Gen Pao "the biggest hero of the Vietnam War".