Thailand Prachatai website editor Premchaiporn on trial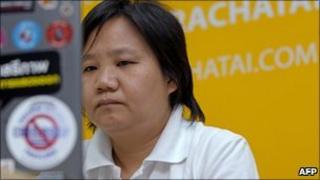 Thailand's first trial of a website manager has opened in Bangkok, in a case being seen as a test of democracy.
Chiranuch Premchaiporn, who manages the popular Prachatai site, is accused of allowing material onto her website which threatens national security.
Prachatai was one of many sites blocked during last year's mass anti-government "red-shirt" demonstrations.
Media freedom advocates say Thailand's cyber laws allow officials to censor any politically challenging content.
Ms Premchaiporn has been testing the limits of what is possible in Thailand's fractured political scene for years.
Her website, Prachatai, offers sharp analysis and news in Thai and English. It covers stories often not tackled by the country's conservative mainstream media.
The five criminal charges she currently faces come under the country's 2007 Computer Crime Act.
They refer to content posted by readers of the site on the Prachatai message board, which discussed the place of the royal family in Thailand, and the military coup of 2006.
Out on bail for the moment, Ms Premchaiporn denies all charges. If found guilty she faces up to 20 years in jail.
Ms Premchaiporn has been accused of insulting the country's monarchy several times, a particularly serious offence here. One such case against her is still outstanding.
Media freedom advocates are critical of the computer law.
"It has become a political tool of the state to close down websites and arrest people," said Supinya Klangnarong, a media reform activist.
"The Thai state has been intensely using the act as political punishment, instead of curbing actual computer-related crimes," she said.
The law has contributed to Thailand dropping significantly in international press freedom rankings.