'Two dead' in Thai-Cambodia military border clash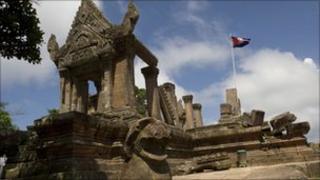 Thai and Cambodian forces have exchanged artillery fire in a disputed border area, with a Cambodian soldier and a Thai civilian reported killed.
The Cambodian government has called it an "invasion", while the Thai military said it was a misunderstanding.
Tension has been rising in recent days, with both sides moving in more troops.
Shells landed in the grounds of the ancient Preah Vihear temple on the Cambodian side of the border and in a Thai village.
It is the most serious incident on the border for some time.
A Cambodian government spokesman blamed the encroachment of Thai soldiers for the fighting and said a complaint would be sent to the UN Security Council.
Long-running dispute
A Thai military official insisted that artillery fire from Cambodia was the trigger. But he said it might have been unintentional.
The fighting ended after about two hours, with both sides confirming a ceasefire.
The two countries' foreign ministers had been meeting in Cambodia to discuss the long-running border dispute when the fighting started.
The Thai nationalist "yellow-shirt" movement has called on its government to take a harder line on the issue with its smaller neighbour.
It is planning a demonstration in front of Cambodia's embassy in Bangkok on Saturday.
There has been tension in the region ever since Cambodia secured the World Heritage listing of the Preah Vihear temple in 2008.
This caused joy in Cambodia, and anguish in Thailand - which once claimed the temple.