Kazakhstan's Nursultan Nazarbayev calls early election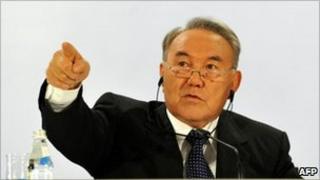 Kazakhstan's leader Nursultan Nazarbayev has called a presidential election for 3 April, well ahead of when his term expires in 2012.
The date was set after the president rejected a planned referendum on dropping term limits to extend his rule until 2020.
That plan was criticised by the United States and Europe.
Mr Nazarbayev, 70, is expected to win easily after years of autocratic rule in the former Soviet state.
The election date was announced in a presidential decree, published in the state newspaper Kazakhstanskaya Pravda on Friday.
This instructed the Kazakh government "to take necessary measures to organise the early presidential election and to ensure facilities and funding for it".
The BBC's Central Asia correspondent Rayhan Demytrie says the president has sought to demonstrate that the election will be an exercise in democracy - but it gives political opposition little time to prepare themselves.
The OSCE, Europe's main security and rights body, welcomed the election decision.
'Wrong precedent'
Earlier this month, parliament voted in favour of holding a referendum on the plan - but Mr Nazarbayev, who has ruled Kazakhstan for 20 years, then decided to drop the move in favour of calling early polls.
"I cannot set the wrong precedent for future politicians. I have taken the decision not to hold the referendum," he said in an address to the nation.
He said that he would ask parliament to hold an early election "even though this will reduce my current mandate by almost two years".
However some observers say the proposal and subsequent rejection of the referendum was political theatre aimed at bolstering Mr Nazarbayev's image.
Mr Nazarbayev has led Kazakhstan since its independence from the Soviet Union in 1991.
Our correspondent says he is expected to win his next term, and a weakened opposition in Kazakhstan is unlikely to mount a serious challenge.
The oil-rich Central Asian nation has never held an election deemed free and fair by international observers.
Parliament, made up entirely of members of the president's party, has already changed the constitution to allow Mr Nazarbayev to run for re-election as many times as he wants.
The US has fostered close ties with the mineral-rich country, despite its government's record on human rights, the stifling of opposition and the concentration of power in the hands of the president and his family.