Cambodia finds two Thai nationalists guilty of spying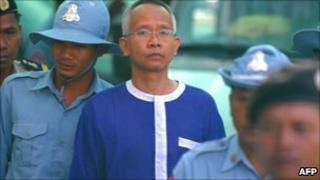 A Cambodian court has sentenced two members of a Thai nationalist movement to up to eight years in prison after finding them guilty of espionage.
The two were among seven Thai politicians and activists charged with illegal entry after crossing into a disputed border area in December.
The case coincides with an increase in tension along the Thai-Cambodia border.
Both sides have accused the other of flying national flags over a disputed area near an ancient temple.
The Thai group were arrested on 29 December just inside the Cambodian border.
They insisted they had crossed accidentally but were charged with illegal entry and trespassing on a restricted military zone.
Five of the group were released last month but Veera Somkwamkid and his assistant Ratree Pipatanapaiboon faced the additional and more serious charge of espionage.
Veera has been given eight years in prison while Ratree was sentenced to six years. They have one month to appeal against their sentence.
"The decision is not acceptable," Veera told reporters at the court. "There is no justice. We will fight this in a higher court."
Veera is the leader of Thailand Patriot Network, a splinter group of the "yellow-shirt" People's Alliance for Democracy (PAD) movement which shut down Bangkok's airports in 2008 in a bid to force the previous government of allies of ousted leader Thaksin Shinawatra to step down.
The PAD has made nationalism, and in particular border disputes with Cambodia, a key part of its political platform.
In recent years there have been sporadic exchanges of fire in areas around Preah Vihear, an ancient hill-top temple that both sides claim.
PAD activists joined the Patriot Network in staging protests in Bangkok calling for the pair's release and demanding that the government take a hard line with Cambodia.