South and North Korea set date for military talks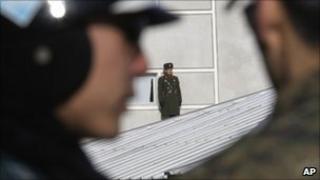 North and South Korea have agreed to hold preliminary military talks on 8 February, in an attempt to defuse heightened tensions on the peninsula.
South Korea's President Lee Myung-bak urged the North to seize a "good chance" to improve relations.
The Koreas will discuss the two deadly attacks by Pyongyang against the South, which killed a total of 50 people, Seoul's defence ministry said.
The talks may lead to a more senior meeting, possibly at ministerial level.
'Good opportunity'
The two sides agreed to hold military talks after weeks of tension following the North's deadly artillery assault on a South Korean island in November, and the alleged sinking of a warship in March.
Pyongyang denies torpedoing the Cheonan warship, and says it was provoked into shelling Yeonpyeong island in November.
South Korea's president said everything must be tried to lessen tensions, including the resumption of economic ties and a possible summit.
Mr Lee said North Korea had to show its sincerity in seeking peaceful dialogue instead of further provocations.
North Korea has offered a variety of talks in recent months but the US, South Korea and Japan have been sceptical of the North's intentions.
South Korea and its allies had demanded an apology from the North for the attacks but Seoul appears to have dropped this as a prerequisite; media reports quoting senior government sources said the issue of an apology was separate to that of the urgent need for talks about the North's nuclear programme.
South Korea has proposed separate political talks to gauge the North's approach to its denuclearisation.
"I can hold a summit if necessary. For North Korea, now is a good opportunity to show a change in its attitude," Mr Lee said in a televised talk show.
"We plan to start working-level dialogue and test [North Korea's] seriousness," Mr Lee said.
"If [North Korea] seeks sincere dialogue, rather than military provocations, we can have dialogue, and resume economic exchanges and talks about the six-way talks."
Washington has welcomed the prospect of new talks, calling it "a positive sign", but remains wary of the North's broader intentions.
In a separate development, the UN Security Council has been warned that North Korea may have more secret nuclear facilities.
North Korea unveiled a vast plant with hundreds of centrifuges for enriching uranium - which can then be used to make nuclear weapons - to an American nuclear expert in November.
UN diplomats say a new report - which has yet to be published - suggests there is at least one more nuclear facility. It is also said to allege that North Korea gets technical help from foreign scientists.
North Korea pulled out of six-nation talks - which involve the two Koreas, Japan, Russia, China and the US - in April 2009, shortly before conducting a nuclear test.