Seven Somali 'pirates' held in custody by Malaysia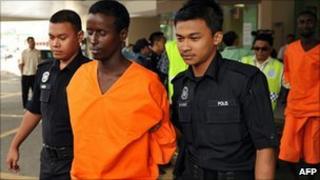 Seven Somali men accused of being pirates have arrived in Malaysia where they could face prosecution.
They were captured by the Malaysian navy 10 days ago as they allegedly tried to hijack a tanker in the Gulf of Aden.
Legal experts in Malaysia are now studying whether they can be charged.
The ship was operated by a Malaysian company but was owned by a Japanese firm, had a Filipino crew and its cargo was bound for Singapore.
The seven men arrived in Port Klang early on Monday. They are accused of trying to hijack the MT Bunga Laurel, a chemical tanker, on 20 January.
Malaysian troops stormed the ship and rescued the 23-strong crew.
"Investigation papers will be submitted to the attorney general as soon as possible for his perusal as to whether to charge or otherwise," said Acryl Sani, deputy chief of the Criminal Investigation Department.
The group were transferred from naval to police custody in Malaysia a day after five Somalis suspected of piracy were flown to South Korea to face possible criminal charges.
The five men were seized when South Korean special forces stormed the Samho Jewelry, a cargo ship which had been hijacked in the Arabian Sea.
Officials say they will face charges of maritime robbery and attempted murder.
The Gulf of Aden, between Yemen and Somalia, is one of the world's busiest shipping routes and has become a hotspot for pirate attacks.
Forty-nine ships were hijacked in the area in 2010, and Somali pirates are currently reported to be holding 31 ships with more than 700 members of their crews.
If South Korea and Malaysia file charges against the men they will be the first Asian countries to prosecute suspected Somali pirates.