Kazakhstan court rejects referendum plan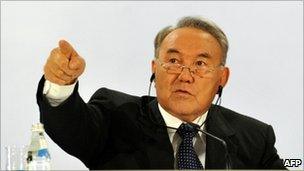 Kazakhstan's constitutional court has rejected a proposal to extend the rule of President Nursultan Nazarbayev until 2020.
Earlier this month, parliament voted in favour of holding a referendum on the plan - which would mean scrapping the next two presidential elections.
But Mr Nazarbayev, who has ruled Kazakhstan for 20 years, has said he does not support the move.
Speaking after the ruling, he said he would call early polls.
"I cannot set the wrong precedent for future politicians. I have taken the decision not to hold the referendum," he said in an address to the nation.
He said that he would ask parliament to hold an early election "even though this will reduce my current mandate by almost two years".
He gave no further details of when such a poll could be held.
The referendum plan had been sharply criticised by the US and the European Union.
Lawmakers voted on 14 January for a referendum that - if passed - would have allowed the 70-year-old president to stay in power for 10 more years, bypassing polls scheduled for 2012 and 2017.
A petition backing the referendum was signed by five million Kazakhs - about a third of the population.
But the Constitutional Council said that such a move would have been illegal.
Mr Nazarbayev has led Kazakhstan since its independence from the Soviet Union in 1991.
The oil-rich Central Asian nation has never held an election deemed free and fair by international observers.
Parliament, made up entirely of members of the president's party, has already changed the constitution to allow Mr Nazarbayev to run for re-election as many times as he wants.
The US has fostered close ties with the mineral-rich country, despite its government's record on human rights, the stifling of opposition and the concentration of power in the hands of the president and his family.
Related Internet Links
The BBC is not responsible for the content of external sites.