China hit-and-run driver sentenced to six years in jail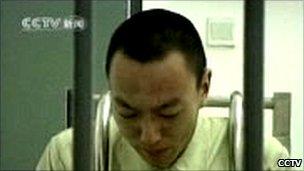 The son of a senior police official in China has been sentenced to six years in jail over a hit-and-run accident that killed a young woman.
Li Qiming admitted he had been driving while drunk when he hit two students in Baoding, one of whom later died.
The case sparked an outcry across China because of reports that Li had tried to exploit his father's rank.
The story circulated online as an example of government officials and their relatives abusing their power.
Chen Xiaofeng, 20-year-old university student, was roller-skating with a friend on her campus in October when Li's car struck them both.
Ms Chen died from her injuries, while her friend suffered a broken leg.
Local media reported that when people had tried to stop him fleeing the scene, Li, then 22, had said: "Go ahead, sue me. My father is Li Gang."
Li Gang was the deputy police chief of Baoding city in northeastern Hebei province.
The story went viral on the internet and "My father is Li Gang" became infamous as a catch phrase.
At the People's Court in Wangdu County, Li Qiming pleaded guilty to drunk driving and vehicular manslaughter, according to Xinhua news agency.
He was sentenced to six years in jail and ordered to pay the equivalent of $69,900 (£44,000) in compensation to the family of Chen Xiaofeng.
Li was also ordered to pay $13,800 (£8,700) to the injured woman.
The court hearing attracted a small crowd and prompted a heavy police presence.