Rise of Chinese tennis rebel Li Na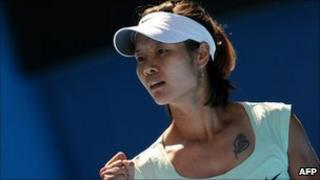 At long last China can boast of a tennis player in a Grand Slam final.
As fans screamed and flags waved, Li Na defeated world number one Caroline Wozniacki at the Australian Open to become the first Chinese player to achieve the feat.
The 28-year-old will now play Kim Clijsters for the Australian Open title on Saturday.
Her historic win has filled airwaves and online pages across China. A songwriter has reportedly set her victory to music.
Red rose
China's top player, Li Na is known as a very strong character.
Born in Wuhan, Hubei Province, in February 1982, she picked up her first tennis racket at the age of seven and started her tennis career when she was 14.
However, she found the state training system too suffocating and left the national team in 2002 when she was barred by sports officials from courting the man who is now her husband and coach, Jiang Shan.
She is reported to have popped the question to him on Valentine's Day in 2005 with a box of chocolates.
Immediately after her win in Melbourne she delighted the crowd with an irreverent reference to her husband's snoring the night before.
And the tattoo of a red rose on her chest has been the subject of much discussion in China, where few women sport tattoos.
Li Na rejoined the national team after tying the knot but then left again with three other top women players in 2009 to become a professional.
This meant that she could keep her prize money rather than handing it back to the authorities - although she has donated a considerable sum to charity.
Her performance at the Australian Open has been described as very "gelivable" - a Chinglish word coined by young people to mean brilliant - and her success will doubtless inspire more youngsters to follow in her foot steps.
It will make her even more popular in China, not the least because Chinese fans are seeing her rise as yet more evidence of China's strength in the sporting world.
Only last week Ding Junhui won the Masters snooker tournament in London.