Japanese pensioners' shoplifting hits record high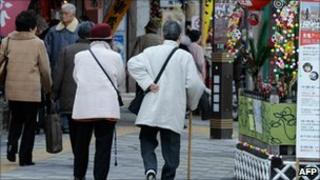 More than a quarter of shoplifters arrested in Japan in 2010 were over the age of 65, police have said, as the number of pensioners committing the crime hit a record high.
In an annual report, the National Police Agency said 27,362 pensioners were arrested for shoplifting in 2010 - almost equalling teenagers.
Most of them stole food or clothes rather than luxury items, the NPA said.
Japanese society is ageing rapidly and its economy remains stalled.
More than 20% of the population are now over the age of 65 - a figure which is expected to rise to about 40% by 2050.
A police official told the Mainichi newspaper that pensioners were shoplifting not just for financial reasons "but also out of a sense of isolation peculiar to the age".
In recent decades the traditional three-generation household structure has changed - more young people have moved to cities to find employment, leaving elderly parents on their own.
Pensioners who want to work have also found it harder to find jobs because of the economic crunch.
Police say the record high - with pensioners comprising 26.1% of all shoplifters - represents a persistent trend.
When record keeping began in 1986, the number of pensioners arrested stood at 4,918. It has climbed since then, hitting 10,000 in 1999 and 20,000 in 2004.