New Zealand mine blast inquest: Men 'died quickly'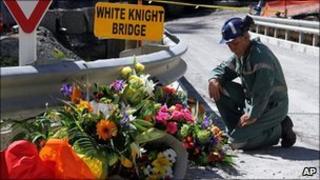 The 29 workers who were killed in New Zealand's Pike River mine disaster in November died in the blast or shortly afterwards, an inquest has found.
Chief coroner Judge Neil MacLean said the evidence suggested the men died from the impact of the first explosion on 19 November or quickly from poisonous gases.
He read the names to the court and said death certificates would be issued.
The families dispute the police view that the bodies may never be recovered.
The deaths of the 29 men in one of New Zealand's worst mining accidents will be the subject of a commission of inquiry.
'Emotional reaction'
A series of blasts at the mine, near Greymouth on the South Island, prevented rescuers from attempting to the reach the men.
Conditions are still considered to be too unsafe for rescue teams to try to retrieve the bodies.
Police superintendent Gary Knowles, who coordinated the emergency response, said: "The chances of any human remains being brought out are very slim to be honest and that is a very disturbing fact for the families and quite traumatic.
"You have got to understand that there have been four major blasts, severe heat up to thousands of degrees."
However, the families of the victims believe more effort should be made.
Some were critical of the police during last November's emergency, insisting that rescuers should have been sent into the mine immediately after the first explosion.
The authorities, though, have always stressed that conditions underground were simply too dangerous.
Peter Whittall, Pike River Coal chief executive, told the New Zealand Herald it was important to get some closure.
"I don't think anyone will be able to hear the names of the men or see them written down without having some emotional reaction. It takes a long time to hear 29 names read out."
Mr Whittall said he had at the time held genuine hope the men might have survived the first blast.
"Certainly that second blast put paid to that," he said.