Christmas Island shipwreck: Indonesia arrests man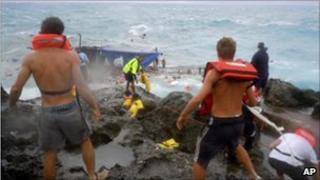 Indonesia police say they have arrested an alleged people smuggler thought to be behind the boat of asylum seekers shipwrecked off Christmas Island.
Police say the man, who claims to be an Australian citizen, had been involved in running people smuggling operations for some time.
Up to 50 mostly Iranian, Iraqi and Kurdish asylum seekers died after their boat smashed on to rocks last month.
They were making their way to Australia via Indonesia.
Christmas Island lies in the Indian Ocean about 2,600km (1,600 miles) from the Australian mainland, but only 300km south of Indonesia.
The island is home to a detention centre housing nearly 3,000 asylum seekers who are waiting for their claims to be processed.
Extradition?
The head of the Indonesian police general crimes unit said his officers had detained the man in Jakarta late on Tuesday after following him for two weeks.
"This is the result of very tight co-operation between Indonesian and Australian police," Agung Sabar Santoso was quoted by ABC as saying.
Indonesia does not have a people smuggling law but police said the man could be charged with immigration violations, which carry a maximum five-year sentence.
It is unclear whether the Australian government will ask for the suspect to be extradited.
Three Indonesian crew members of the shipwrecked boat have been charged with people smuggling offences in Australia, and face up to 20 years in jail if found guilty.
There were about 90 people on board when the flimsy boat smashed into rocks in heavy seas on 15 December.
Coastguards rescued 42 survivors but up to 50 people are believed to have drowned.