China hit-and-run suspect Li Qiming on trial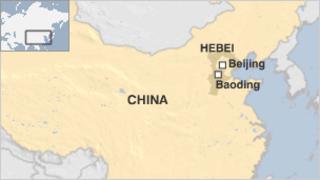 The son of a senior police official in China has admitted causing the death of a young woman while driving drunk, in a case that sparked public outrage.
Li Qiming is accused of hitting two women last October on a university campus, killing 20-year-old student Chen Xiaofeng and injuring the other.
When people tried to stop him fleeing, Li apparently said: "Go ahead, sue me. My father is Li Gang."
This attempt to use his father's influence sparked an online outcry.
Li Gang was the deputy police chief of Baoding city in Hebei province. The hit-and-run incident has drawn widespread anger at China's elite and abuses of power.
Compensation
Security around the courthouse was tight, with reports of police lines set up to prevent journalists and a crowd of about 100 people from getting near the entrance.
The trial of the 23-year-old at the Wangdu County People's court in Hebei lasted two-and-a-half hours, and ended without an immediate verdict.
Prosecutors said Li should be sentenced to three to seven years in prison, Xinhua news agency reported.
Defence lawyers said Li had apologised and had compensated the victims' families, and hoped he would be given a lighter sentence of "three years in jail with a reprieve".
Li has paid 460,000 yuan ($69,880) to Ms Chen's family and 92,000 yuan to the family of the injured woman, Zhang Jingjing, according to the Xinhua report.