Japan suspect in Lindsay Hawker murder writes book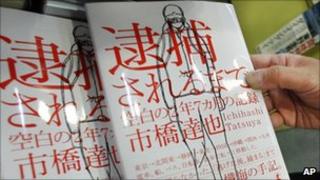 The man accused of the murder in Japan of British teacher Lindsay Hawker has published a book about his time on the run from the police.
Tatsuya Ichihashi was arrested in 2009, more than two-and-a-half years after the 22-year-old's body was found in a bathtub on the balcony of his flat.
He is being held in custody awaiting trial for murder and rape.
In a statement Ms Hawker's parents said they were disgusted and only want justice for their daughter.
For two years and seven months Tatsuya Ichihashi was the most wanted man in Japan; the prime suspect in the murder of Ms Hawker from Brandon near Coventry.
Now from inside the Tokyo Detention House where he is awaiting trial, he has written a book about his time on the run.
In Before I was Arrested, Tatsuya Ichihashi does not discuss his alleged crime but recounts how he travelled widely to evade capture after fleeing his apartment barefoot during a police search.
He spent several long periods living rough on a tiny island in the far south-west of Japan, venturing out to work as a labourer to pay for plastic surgery.
The 32-year-old was arrested after doctors at a clinic became suspicious and gave the police a photograph of his new appearance.
Tatsuya Ichihashi's lawyer told Japanese newspapers he hopes to donate royalties from the book to the Hawker family or to charity.