Macau tycoon Stanley Ho family row 'resolved'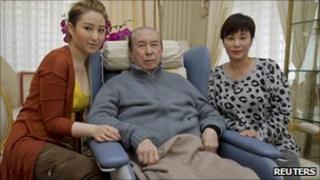 An ageing casino magnate in Hong Kong has denied he is planning to sue family members in a row over shares in the firm that controls most of his fortune.
Billionaire Stanley Ho made the bulk of his money running casinos in Macau.
He had been quoted by his lawyer as threatening legal action against members of his own family after his shares were transferred to them.
But the 89-year-old has appeared on TV to deny the claims, saying the row with relatives had been "resolved".
Dr Ho appeared on a Hong Kong television station flanked by the third of his four wives and one of his daughters.
He spoke slowly but otherwise appeared calm.
He said the controversy over the transfer of his assets to other family members had saddened him.
He confirmed that he had authorised the transaction. He reaffirmed his decision to sack his lawyer Graham Oldham.
Mr Oldham had earlier in the week told the media Dr Ho had been surprised to discover the transfer, was angry about it and was threatening to sue.
Shares fall
So will this be the end of the matter? Mr Oldham was still insisting on Wednesday that he had not been sacked, and that the legal action would still go ahead.
But the ageing tycoon's TV appearance would seem to have undermined his lawyer's suggestion that statements were being made on the billionaire's behalf by his family that weren't in line with his wishes.
Meanwhile, shares in the $10bn (£6.3bn) casino firm that provides much of the family's wealth lost 5% of their value on the Hong Kong stock exchange on Wednesday.
Theories about what is behind the row have the gossip columnists in a frenzy.
But investors will be hoping a power struggle within the Ho dynasty has now been avoided. The prospect of a courtroom drama wasn't good for business.