India and Indonesia aim to double trade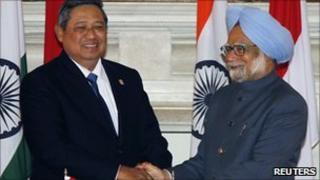 India and Indonesia have signed business deals worth billions of dollars and set an ambitious target of doubling trade over the next five years.
The agreements were signed at the end of wide-ranging talks between Indian Prime Minister Manmohan Singh and visiting President Susilo Bambang Yudhoyono.
The deals included agreements on energy, infrastructure development and fighting crime.
Mr Yudhoyono will also be the guest of honour at India's 26 January Republic Day celebrations.
"We are growing stronger as economic partners," Mr Yudhoyono told business leaders from the two countries. "There is so much we can do together."
The two leaders announced plans to achieve bilateral trade of $25bn by 2015, according to a joint statement issued at the end of the meeting.
Coal deals
Chairman of the Indonesia Chamber of Commerce Suryo Sulisto said the deals were significant.
"The total number of MoUs to be signed is around 30 to 40, covering many areas including mining, steel... So this is a very important visit," Mr Sulisto said.
Indian companies already source very high grade coal from Indonesia, and Mr Yudhoyono's visit will enable them to step up sourcing and investment in Indonesian mines.
Last year India imported 40 million tons of Indonesian coal and this is expected to rise to 70 million in the next two years.
Indonesia is India's third largest trading partner in the Association of Southeast Asian Nations (ASEAN).
Trade has already risen from just $4bn (£2.5bn) in 2005 to $14bn in 2010.
Five major Indian business, including Tata and the Anil Dhirubhai Ambani Group, have made investment commitments in Indonesia worth $20bn to be undertaken this year.
Other Indian companies like Essar and Jindal are already operating in Indonesia.
Indonesia's Indorama, a textile group, and Harmony soap are among the few Indonesian brands operating in India, while Mayora is setting up a food processing unit near Chennai.
Mr Yudhoyono previously visited India in November 2005.