Blast in southern Thailand kills nine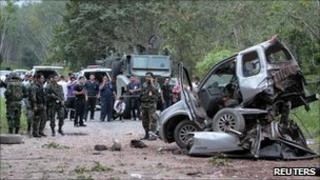 A bomb blast in southern Thailand has killed nine villagers and wounded two others, police say.
The villagers were driving in Yala, one of three restive provinces, when a bomb exploded next to their truck.
The blast occurred less than a week after separatist rebels killed four soldiers in an attack on an army base in nearby Narathiwat province.
The southern violence has claimed more than 4,300 lives since a decades-old separatist campaign reignited in 2004.
The incident will be a blow to the government, which said tighter security and successful public relations had reduced violence in the three Muslim-majority provinces significantly in recent months.
Special law
Police said the bomb was planted by the road and detonated remotely by a mobile phone.
Roadside blasts are common in the region but the usual targets are the security forces.
The government last week extended emergency rule in most of the region for another three months.
Thai army chief Prayuth Chan-ocha said special laws were needed in the south to address the continuing violence.
"If people don't obey the law and use loopholes in the law to carry out illegal activities, then special laws are needed," the Bangkok Post quoted him as saying.
Critics accuse the government of failing to address the grievances of residents of Thailand's southern provinces.
Thailand annexed the three provinces - Narathiwat, Yala and Pattani - in 1902, but the vast majority of people there are Muslim and speak a Malay dialect, by contrast with the Buddhists in the rest of the country who speak Thai.