Rumours over death reveal China's distrust of authority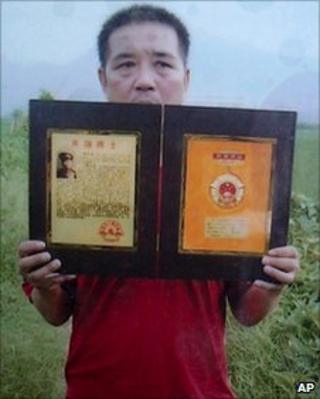 One recent Saturday, early in the morning, Chinese villager Qian Yunhui left his home after receiving a telephone call. A few minutes later he was dead.
Mr Qian was crushed under the wheels of a lorry. The police said it was a simple road accident, but fellow villagers suspected foul play.
The dead man had been leading a protest against the construction of a power plant and had made many enemies. In his final days he feared for his life.
Internet forums buzzed with theories about the death. Many people were outraged, some claimed there was an official cover-up.
The truth about what happened to Mr Qian may never be revealed, but his story shows the lack of faith many people have in the authorities.
Rumours - spread quickly by mobile phones and the internet - often seem to carry more credibility than official statements.
A recent article in the International Herald Leader, published by the state-run news agency Xinhua, reflects on this growing problem.
"We once used to trust everything - our leaders, revolution, the collapse of capitalism and communism's bright future. But now it seems we don't believe in anything," said the report.
"Today the lack of trust has already seeped into many people's daily lives."
'Held him down'
There is certainly a lack of trust in the authorities in the village of Zhaiqiao in Zhejiang province, where Mr Qian lived.
After the 53-year-old's death, villagers surrounded the body to try to prevent the police taking it away before the scene had been properly investigated.
The mistrust grew over the following days.
According to official media reports, the police said Mr Qian had been holding an umbrella while crossing the road, something that could have prevented him seeing the on-coming truck.
A closed-circuit television camera that could have recorded the event was not working properly, the police claimed.
Many did not believe them, and their accusations were posted online.
"We should investigate this case thoroughly and deal with it fairly. It affects the public's trust and belief in justice - and the government's credibility," read one comment.
The controversy was given new impetus after journalist Liu Jianfeng put the results of his own eight-day investigation online.
Mr Liu, who works for the China Economic Times newspaper, conducted a thorough investigation, interviewing dozens of people.
He appeared to turn up a new eyewitness, who said four men got hold of Mr Qian.
"They held him down and then waved the truck to come over slowly," the witness apparently told Mr Liu.
'Serious consequences'
Now, however, the case of Mr Qian now appears to be closed, after his family were paid sizeable compensation of 1.05m yuan ($159,000).
US-based China expert Liu Yawei, who has followed this case, said the story is just one of many where people have expressed their disbelief in official statements.
He said the government often had only itself to blame for this situation.
It was sometimes slow to release information, rarely involved the public in investigations and often sought to blame others to protect itself, explained Mr Liu.
This has ramifications far beyond this particular case, and threatens to undermine the government's whole credibility.
"When trust is lost, the public tend to believe in gossip or rumours," said Mr Liu, director of the China programme at the Carter Center in Atlanta.
"The lack of transparency, the slowness in addressing social injustice, the drastic response to people who are simply trying to register discontent, may have serious consequences in China."
Professor Zhan Jiang, of Beijing Foreign Studies University, said not all parts of government were equally disbelieved.
He said people had far more respect for, and faith in, the central government than they did for local government officials.
And he said not all journalists and publications were afraid to question the official view of contentious events.
But he added: "Reports in the state media are still not good enough. They talk a lot about good things, but not enough about problems and difficulties."
And while that is the case, people will question the official view on all kinds of issues.
As the International Herald Leader article put it, many people now do not believe the food they eat is safe, that doctors will give them the best medicine or that they will get justice from the courts.