China sets classes in good manners for schoolchildren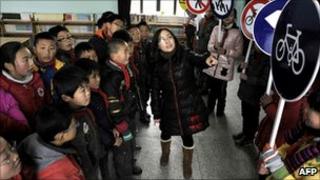 The Chinese government is making schoolchildren take classes in what it calls "civilised manners".
The education ministry says the aim is to enhance the ethical quality of the nation and China's influence abroad.
Before the 2008 Beijing Olympics, authorities launched campaigns against things like spitting and littering to avoid offending foreign visitors.
The new classes range from basic table manners to the art of holding conversations and delivering speeches.
According to the education ministry's website, teaching courtesy should combine "the traditional virtues of the Chinese nation" and "the salutary achievements of civilizations in other parts of the world".
Detailed guidelines have been published, with classes tailored to the age of the child.
Concern over values
Among key lessons for primary school students are using courteous language, observing traffic rules and respecting the elderly.
Children a little older will be learning about phone and correspondence etiquette, how to dress properly and how to hold polite conversations with both Chinese and foreigners.
High school students are expected to master the etiquette of debate and delivering speeches, but they should also know how to keep a proper distance from other people when they are queuing or using a lift.
"The campaign is very necessary for our society now," Xin Tao, vice director of the National Assessment of Education Quality, told the Global Times.
Abigail Mawdsley, from the BBC's Asia Pacific desk, says the campaign reflect two things.
Firstly, they signify a concern - with the waning of communist ideology - about the values underpinning society.
But they also show an awareness that the behaviour of citizens affects a country's image, she says, and that commanding global respect involves more than simple economic and military might.
Authorities have shown concern in the past about the habits and behaviour of some of their citizens.
But the goal now appears to be to drill manners into people from an early age.