China cashes in on the royal wedding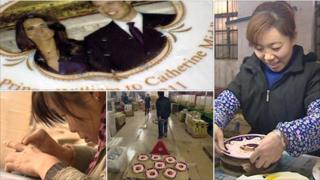 In a chilly, grimy looking factory in northern China, women wearing coats to keep out the winter cold sit in rows. In front of them are tables piled with plain white china plates. The women are hard at work.
Under bright lights they are fixing ready-made designs onto the plates by hand. The design has a blue border, scrolls and love hearts around a photo of Prince William and Kate Middleton with beaming smiles.
The lettering reads: "To Commemorate the Royal Wedding of HRH Prince William to Catherine Middleton, 29th April 2011."
The women at Tangshan Hengrui Ceramics, a couple of hours from Beijing, know these are souvenirs for a royal occasion, although some are not quite sure whose image it is they are adding to the plates.
"I heard it's for a wedding of a prince and a princess," says Liu Ying. "I'm not sure which country they're from, but they look very beautiful. I'm sure they'll be very happy and grow old together."
"It's for the British prince and his fiancee. They look like a good match, they look very nice, she's beautiful and he's handsome," says Dai Baohua, who is sitting next to her.
China deals
Within days of William and Kate announcing their engagement in London in November, deals were being struck in China. The designs for the plates were produced by a UK firm.
Tangshan Hengrui says it was approached to produce them because it makes fine bone china at prices competitors in the West can't match.
Each plate costs around £1 ($1.59) to make, and each worker at the factory earns on average £10 a day (US$15). The salaries are low by Western standards, but double the basic wage in many of China's factories.
The UK buyer wanted 100,000 of the royal plates, but Tangshan Hengrui is too busy with other orders and could only produce half that number. Its giant kilns are busy, churning out dinnerware for export to giant retailers in Europe and America, and high-quality plates for rich Chinese buyers.
We watched as a batch of William and Kate plates emerged from firing, followed by a giant platter with a photo of China's President Hu Jintao set against a deep red background. The platter will probably be used as a gift from one senior Communist Party official to another.
On the factory's display shelves are other huge plates, one with the insignia of the People's Liberation Army, another with a photo of a famous Chinese television presenter.
Tangshan Hengrui was set up a decade ago by the company's current boss Ms Li, who was once a worker in a state-owned ceramic factory. It turns over £2m (US$3 million) of business every year and employs 300 people.
This isn't her her first royal wedding. She shows me another giant plate she made last year with a photo of another beaming royal couple. The plate was a present for Sweden's crown Princess Victoria
"For William's wedding we want to do the same," Ms Li tells me. "If the royal family can give us a photo, one of his favourites, then we'll make a special plate for him, too. It's a priceless treasure."
Tangshan Hengrui plates are now on their way to the UK. Other firms in China, also hoping to cash in, are shipping royal mugs, royal teddy bears, even copies of the royal engagement ring.
So when people in the UK buy their royal wedding souvenirs they will find that many have a made-in-China stamp. China may be on the other side of the world, and the royal wedding may be a very British occasion, but here William and Kate's big day is already translating into big money.