Uzbek leader Islam Karimov in EU talks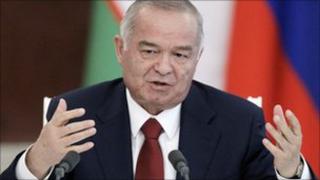 Uzbek President Islam Karimov is on his first official visit to Brussels since the European Union lifted sanctions against his government.
The sanctions were imposed in 2005 after the brutal suppression by the government of a popular uprising in the Uzbek city of Andijan.
International rights groups have been urging the EU to raise the issue of human rights with the Uzbek leader.
News of his visit sparked uproar among activists and Uzbek dissidents abroad.
Many have expressed concern that the president of the European Commission and the head of Nato are meeting the leader of a country that has one of the worst human rights records in the world.
EU officials said the Commission President, Jose Manuel Barroso, would discuss human rights with Mr Karimov.
In a global report released on Monday, New York-based Human Rights Watch accused the EU of "an obsequious approach towards Uzbekistan and Turkmenistan".
Gas-rich Turkmenistan has an authoritarian government intolerant of dissent, like its neighbour Uzbekistan.
Notorious crackdown
EU statements of concern on human rights are "often not backed by a comprehensive strategy for change", said Human Rights Watch, an international non-governmental organisation.
The sanctions against the government of Mr Karimov were lifted two years ago.
There had been a travel ban for top Uzbek officials as well as an arms embargo, following the 2005 mass protests in the eastern Uzbek city of Andijan.
Government troops reportedly opened fire on mainly unarmed protesters. Rights groups claimed that almost 1,000 people were killed.
The Uzbek authorities put the number of dead at 187 but never allowed an independent investigation into the events.
Uzbekistan's relationship with the West changed following the Andijan uprising.
Dozens of Uzbeks were jailed, while several hundred sought sanctuary in Europe. Western NGOs and media were expelled from the country.
Dispute over sanctions
But in recent years there has been something of a thaw in relations.
The country borders Afghanistan and plays an increasingly important role as a transit country for Nato non-military cargo. Mr Karimov will hold talks with Nato chief Anders Fogh Rasmussen.
"I think... it will be possible for me to strike the right balance to discuss human rights and democracy and at the same time practical co-operation on transit facilities and other elements in practical co-operation that can be to the benefit of our operation in Afghanistan," Mr Rasmussen said.
Human Rights Watch criticised the EU for softening its policy "even though the Uzbek government took no steps to fulfil any of the EU criteria required for lifting the sanctions".
Ahead of the Brussels talks, Amnesty International wrote to Mr Barroso, urging him to raise human rights issues with Mr Karimov.
It said human rights defenders and independent journalists "are continuously subjected to harassment, beatings and detention without fair trial" in Uzbekistan.
On Andijan, Amnesty said "international pressure urgently needs to be reasserted".
Amnesty said the EU should call for Uzbekistan to "allow an investigation as a matter of urgency".
It also urged the EU to install an official delegation in the Uzbek capital Tashkent to monitor the situation, with a special focus on human rights.