Indonesia troops jailed over Papua abuse video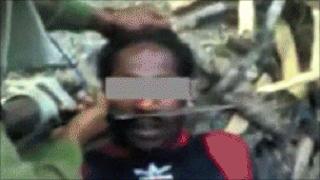 Three soldiers seen abusing Papuan villagers in a video uploaded onto the internet have been jailed by an Indonesian court.
The footage, posted on a human rights website last year, showed the men beating villagers and burning the genitals of one of them.
The men were found guilty of disobeying orders and sentenced to terms of between eight and 10 months in prison.
Human rights groups said the men should have been prosecuted for torture.
Indonesia has a large military presence in Papua, where a small group of rebels have waged a low-level war for independence for decades.
The graphic video, posted on the internet in October last year, provoked an outcry.
It showed men in military uniform kicking and abusing indigenous Papuan villagers, and accusing them of having links to separatist groups.
In it, a man holds a knife to one victim's face and neck as he is repeatedly kicked and questioned.
The video shows the genitals of another Papuan being scorched with a burning stick.
"They caught two men who had no identification documents and took them to a military post," chief judge Lt-Col Adil Karokaro told the tribunal in Jayapura, the capital of Papua province.
"The men suffered torture there."
The men - a sergeant and two privates from the Nabire 753 Infantry Battalion - have said in previous court appearances that they regretted their actions.
Human rights groups have condemned the decision not to charge the men with more serious offences.
"This trial wasn't serious in meting out punishments that matched the severity of the crimes we saw in the video," Haris Azhar of the Commission for Missing Persons and Victims of Violence told AFP news agency.
"The verdict didn't create a sense of justice for the public and victims."
Lt-Col Harry Priyatna, a spokesman for the military command in Papua, told Reuters news agency there was not enough evidence for a torture charge "so to avoid them being acquitted we laid the disobedience charge".
Amnesty International's Asia-Pacific deputy programme director Donna Guest said the fact "that the victims were too frightened to testify in person due to the lack of adequate safety guarantees raises serious questions about the trial process".
Papua is Indonesia's most remote and least developed province.
Campaigners have accused the Indonesian military of abuses against local Papuans, who are mainly Christians or Animists of Melanesian origin.
Last year the US lifted a ban on training with Indonesian special forces, 12 years after it cut ties over concerns about human rights abuses in the 1990s.
A state department spokesman said last week that the US was closely monitoring the Jayapura trial.