Taipei residents urged to use CDs not firecrackers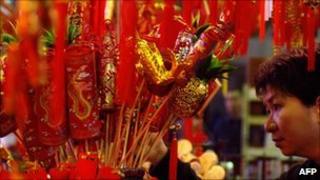 With Lunar New Year approaching, Taiwan's capital Taipei has begun urging residents to celebrate by playing recordings of firecrackers instead of setting off the real thing.
That is because the tradition of setting off firecrackers during this time of the year causes a large amount of noise, air and ground pollution.
But will residents heed the advice?
Setting off firecrackers to drive away bad luck and welcome the new year is a centuries-old Chinese tradition.
While it is banned in other Chinese societies such as Hong Kong, Malaysia and Singapore, Taiwan still allows it.
Firecrackers can be heard on the island at all hours during the 15-day Lunar New Year period.
Some are so loud they sound more like explosions and set off car alarms. Others last so long that some foreign expatriates flee Taiwan during this time of the year.
The practice also creates environmental pollution. The air is filled with a smoky smell and the ground is littered with tiny scraps of red paper.
That is why Taipei city officials say they want to give residents another option.
People can pick up free CDs of the recordings of firecracker sounds or download them from the government's website and play them during their family banquets, business openings or other celebrations.
But many people still prefer the traditional way.
They argue it might be quieter in Hong Kong, Malaysia or Singapore but the new year's atmosphere in Taiwan is more festive because of the real sound of firecrackers.