South Korean pastor jailed over North Korea visit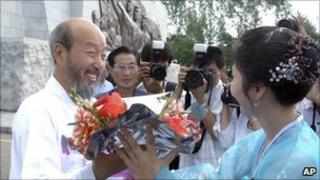 A South Korean clergyman has been jailed for five years for travelling to North Korea and praising its leaders.
Han Sang-ryol was arrested last August on his return from a stay of more than two months in North Korea.
South Korean law bans unauthorised contact with the North.
His visit came at a time of extreme tension between the two Koreas after the South blamed the North for sinking one of its warships on 26 March.
Forty-six sailors died when the Cheonan went down near the disputed inter-Korean western maritime border.
International investigators said a North Korean torpedo sank the ship. Pyongyang denies any role in the incident.
'Propaganda'
Prosecutors had sought a 10-year term for Mr Hang, who is a well-known pro-unification activist.
He flew into Pyongyang on 12 June 2010 and returned on 20 August on foot via the truce village of Panmunjom in the demilitarised zone.
"The defendant went to the North without the Unification Ministry's approval, and he would have been aware that his activities will be extensively reported by the North's media for the regime's propaganda," the Seoul Central District Court said.
The court said he gave speeches praising North Korean policy and its "military-first" ideology.
The two Koreas remain technically at war since the end of the 1950-53 Korean War.
Ties between the two are currently very tense in the wake of North Korea's shelling of a South Korean border island on 23 November which killed two marines and two civilians.