Burma names military figures to sit in new parliament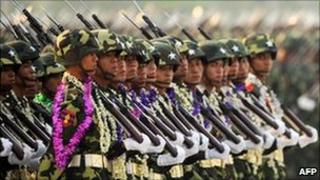 Burmese state media has published lists of military officials who will take up seats in parliament when it opens on 31 January for the first time in 22 years.
Under the junta-drafted constitution, the military is allocated 25% of seats in both houses of parliament and the state assemblies.
Most of the 388 officers appointed hold relatively junior ranks.
Military-backed parties won by far the largest number of seats in the November polls, Burma's first in 20 years.
Opposition groups and Western nations have criticised laws under which the polls were held and condemned the elections a sham.
The official first sitting of parliament in Naypyidaw will mark the implementation of the new constitution and see the transfer of power from the military government to a parliament and president.
Representatives of military-linked parties - many of them former officers who stood down to stand in the polls - are expected the dominate the chambers.
The setting of a quota for the military in parliament has been interpreted by some observers as intended to prevent any surprises. More than 75% approval is required for any constitutional change.
The state-run New Light of Myanmar newspaper reported that 110 military officers had been chosen for the lower house, 56 for the upper house, and 222 for regional and state parliaments.
The most senior appointees were a brigadier general and 19 colonels alongside a majority of majors and captains.
Under the new constitution, parliament will elect a president. It is not yet clear whether senior leader Than Shwe is eyeing this role.
The party that won Burma's last elections in 1990 - the Aung San Suu Kyi-led National League for Democracy - is not represented in parliament.
But there will also be a small number of lawmakers representing Burma's ethnic parties and its pro-democracy opposition.