Australia floods: Taxpayers may face one-off flood levy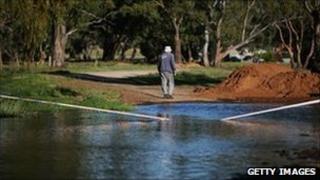 Australia's Prime Minister Julia Gillard has raised the prospect of a one-off tax to help pay for the devastation wrought by severe flooding.
Economists estimate that the flooding in Queensland and Victoria will cost at least A$3bn (£1.8bn) in lost coal exports and agricultural production.
Reconstruction could cost an additional A$20bn (£12.5bn), the ANZ Bank says.
At least 30 people have died since early December, with tropical storms causing huge floods on the east coast.
Ms Gillard told Australian television that she was determined to balance the budget as well as rebuild shattered communities.
"We don't have the total damage bill yet but I want to be very blunt with Australians - we have a lot of flood damage to repair in Queensland, there will be some economic effects," she said.
"There will be spending cutbacks and there may also be a levy," Ms Gillard told ABC on Thursday evening.
Opposition leader Tony Abbott attacked the levy idea as unnecessary.
"There's a right way and a wrong way to find that money," he said, adding that the government should cut back its own spending before taxing Australians, and scrap the controversial A$36bn broadband network plan.
High tide
The Australian Bureau of Agricultural and Resource Economics and Sciences (ABARES) said the floods would probably cut 15 million tonnes from Queensland's expected coal exports, hitting export earnings by about A$2-2.5bn.
More than half of Australia's black coal production, and 62% of the country's coal exports, comes from Queensland.
The national forecaster estimated that the impact on farm production would cost at least A$500-600m, hitting fruit and vegetables, cotton, and some winter crops, although livestock losses were reportedly small.
Roads, railways lines and tens of thousands of homes have been washed away by the floods.
The ANZ bank said the cost of reconstruction could come in at about A$20bn once the flood waters subsided and the scale of devastation became clear.
In the Queensland capital, Brisbane, residents sandbagged their homes again as an exceptionally high tide threatened properties.
However, the fresh damage was not as bad as feared; river waters remained high with drains overflowing.
Meanwhile, flood waters further south in Victoria threatened the towns of Jeparit and Beulah, with all land access routes cut off, the State Emergency Service said in a statement.
The straining levee in the town of Kerang has not yet broken but continues to cause concern. Residents in Swan Hill have been placing sandbags around their homes; Pyramid Hill was also isolated.