Iran nuclear talks start in Istanbul 'positively'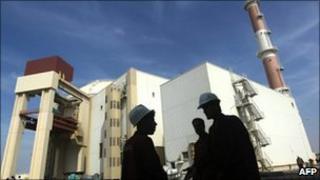 Fresh talks between major powers and Iran about Tehran's nuclear programme have begun in a "positive atmosphere", Iranian officials say.
The talks in Turkey are expected to revive a fuel-swap plan that involves Iran giving up uranium enrichment in exchange for enriched foreign material.
However US officials have warned that a major breakthrough is unlikely.
The UN has imposed sanctions on Iran amid claims it wants to develop nuclear weapons - allegations Tehran denies.
EU foreign policy chief Baroness Ashton is heading a delegation from China, France, Germany, Russia, the UK and US, at the talks in Istanbul.
Iran's National Security Council issued a statement saying Friday's first session had been held in a "positive atmosphere".
Iranian delegate Abolfazl Zohrevand told the Associated Press news agency: "There are good signs that the two sides will make progress."
However he added that Iran's enrichment activities were not on the agenda.
"We will absolutely not allow the talks to go into the issue of our basic rights like the issue of suspending enrichment," Mr Zohrevand said.
One goal
Iran has instead pushed for the talks to focus on such issues as global disarmament and Israel's suspected nuclear arsenal.
Saeed Jalili, who heads the Iranian delegation, said before the talks: "We want to discuss the fundamental problems of global politics."
US state department spokesman Mark Toner said Washington was "not expecting any big breakthroughs".
He said the aim was to establish a "constructive process" which would see Iran "engaging and addressing the international community's concerns about its nuclear programme".
In recent years these negotiations have achieved almost nothing, says the BBC's Iran correspondent James Reynolds, in Istanbul.
Because of this, Western diplomats say they have set only one immediate goal for this round of talks - to persuade Iran to start getting rid of its stockpile of low-enriched uranium.
The current stockpile is estimated to be about three tonnes, and would be enough to make several nuclear weapons if it was enriched further.
In the past, disagreements over the amount of enriched uranium that Iran was prepared to give up have scuppered any chance of a deal.
Western diplomats want to make sure that there is not enough enriched uranium left inside Iran to build a single bomb, but Iran has agreed only to give up some of its stockpile.
The negotiators are expected once again to propose a fuel-swap deal under which Iran would give up an agreed amount of its low-enriched uranium in return for fuel for a research reactor in Tehran.
However, it would be the third time in recent years that the idea of a uranium-for-fuel swap has been proposed.
A first version of this deal was agreed in October 2009, but collapsed shortly afterwards.
In May 2010, Brazil and Turkey brokered another version on their own with Iran - but the deal was rejected by the West.
Meanwhile, the UK's Guardian newspaper has published a leaked US diplomatic cable from 2009 suggesting that American experts believed Tehran had the "technical ability" to make highly enriched uranium - which can be used in weapons.
The cable shows, however, that other international experts at the same meeting disagreed with the American view.
Iran has attracted international suspicion because it hid its enrichment programme for 18 years, and still attempts to obstruct UN inspectors working in the country.
But Tehran repeatedly insists it is complying with international law, and wants to use nuclear technology for fuel only.