South Korea agrees military talks with North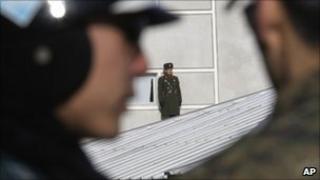 South Korea has agreed to high-level military talks with the North, after months of tension on the peninsula.
The South said it would join the talks only if the agenda included the two events that have soured relations - the sinking of a southern warship in March, and the shelling of a southern island.
Pyongyang denies torpedoing the Cheonan warship, and says it was provoked into shelling Yeonpyeong island in November.
Washington welcomed the prospect of new talks, calling it "a positive sign".
However state department spokesperson Mark Toner said the resumption of broader negotiations was some way off.
"We still believe that North Korea has a ways to go before we can engage in meaningful six-party talks," he said.
North had made several offers of discussions this month, but they were all dismissed by Seoul.
Officials at the South's defence ministry said the latest offer included a commitment to "exchange views" about the shelling of Yeonpyeong and the sinking of the Cheonan.
The South's Unification Ministry ministry said the offer had been accepted, but that the North must give assurances that it would "take responsible measures" over the two incidents.
'Fence-mending'
On Wednesday, China's President Hu Jintao and US President Barack Obama released a joint statement urging Korean dialogue after a meeting in Washington.
"The United States and China emphasised the importance of an improvement in North-South relations," the two leaders said.
And the North's state-run news agency KCNA called for the US to reopen talks with Pyongyang.
"The US would be well advised to re-examine its hostile policy towards the DPRK [North Korea] and make a U-turn towards dialogue and fence-mending," its report said.
The US is among the countries involved in talks over the North's nuclear programme.
Pyongyang pulled out of the talks in April 2009, shortly before conducting a nuclear test.
Southern defence officials said on Thursday that they would propose to Pyongyang reopening dialogue on denuclearisation.
Relations between the two Koreas plunged to new lows after the South's Cheonan warship was sunk in March, with the loss of 46 lives.
An international report later blamed the North for the sinking - allegations denied by Pyongyang.
On 23 November, the North killed four people when it shelled Yeonpyeong island - its first attack on a civilian area since the 1950-53 war ended.
The South responded with a series of military exercises close to the border.