US to move F-15 jet drills from Okinawa to Guam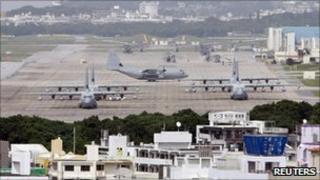 The US and Japan have agreed that drills involving some Okinawa-based F-15 fighters will be relocated to Guam, as part of efforts to reduce the US military footprint in Okinawa.
Defence Minister Toshimi Kitazawa made the announcement on a two-day visit to Japan's southern-most prefecture.
He said talks would also begin on the return of a training area by 2012.
But there was no movement on a base relocation issue over which lawmakers and Okinawans remain deadlocked.
Tokyo and Washington want to close Futenma airbase in central Okinawa and replace it with a new base in the north of the island.
But local residents and environmentalists are opposed to the plan and many Okinawans say the base should be moved off Okinawa, which currently hosts 74% of all US bases in Japan.
The deadlock has strained the half-century-old US-Japan security alliance. Tokyo says it plans to go ahead with the move and has been looking for ways to boost support for the plan in Okinawa.
Under the deal announced on Thursday, 20 of the 50 F-15s in Okinawa will conduct three-week drills in Guam.
Okinawa Governor Hirokazu Nakaima, who was re-elected late last year on an anti-base platform, said he would assess it to see if it helped reduce noise disruption on the island.
Talks on handing back the Gimbaru training area - where the US conducts helicopter take-off and landing exercises - by March 2012 will also begin, Mr Kitazawa said.