Hillary Clinton: Iran may face further US sanctions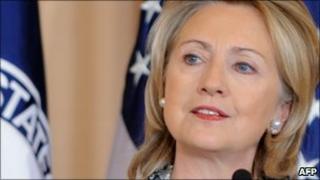 The US secretary of state has said the US is considering imposing additional unilateral sanctions against Iran over its nuclear programme.
Hillary Clinton made the comment after admitting some Chinese "entities" were failing to comply fully with sanctions.
She said the US was pushing China, whose president is on a diplomatic trip to the US, on the issue.
Six world powers are negotiating with Iran over its nuclear programme, which it insists is for peaceful purposes.
The two sides are due to meet in Istanbul on Friday.
Mrs Clinton denied that China was undermining efforts to stop activity that the powers suspect is aimed at developing nuclear weapons capability.
'Having an impact'
"On Iran, for example, China joined with us in the tough sanctions," she said in an interview on US broadcasting network ABC.
"The Israelis just said about a week or so ago that they see a slowdown in the Iranian programme. We believe that sanctions have had an impact."
She said, however, that the US was pushing Beijing to ensure sanctions were uniformly applied.
"We think that there are some entities within China that we have brought to the attention of the Chinese leadership that are still not as, shall we say, in compliance as we would like them to be and we are pushing very hard on that," she said.
"We may be proposing more unilateral sanctions," she added.
The six powers who will hold discussions with Iran in the Turkish city of Istanbul are the US, Britain, France, Russia, China and Germany.
The talks will be chaired by European Union foreign policy chief Catherine Ashton.