Japan graduate jobs hit new low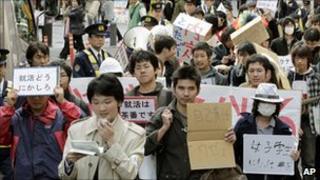 The percentage of Japanese university students finding jobs before graduation has dropped to a record low, according to a government report.
Some 68.8% of students secured a job offer before graduation in March - a figure down 4.3% year on year.
It is the first time this number has fallen below 70% since annual records began in 1996.
Officials surveyed 6,250 students at 62 universities and 20 junior colleges across Japan.
For junior college students, the percentage stood at 45.3, also a record low and down 2.1 points, according to the poll by the labour and education ministries.
Analysts say the lack of jobs reflects some companies' fears that they already have too many staff.
Many companies still offer jobs for life - and retirement ages are expected to go up as the nation ages - making taking on a new graduate a big commitment in a shaky economy.
Reacting to the survey, Chief Cabinet Secretary Yukio Edano said: ''We recognise that this is a serious situation.''
The shortage of job opportunities is a big worry for students in a country where the first step on the employment ladder can be a crucial one.
''I feel like my destiny for life is being decided,'' student Toru Tozaki, 21, told AP news agency.
The findings have prompted the Japanese authorities to introduce measures to help soon-to-graduate students find a job.
Two ministries have announced subsidies for companies willing to employ them. They are also organising more job fairs to bring students and businesses together.