Australia and Afghanistan sign asylum repatriation deal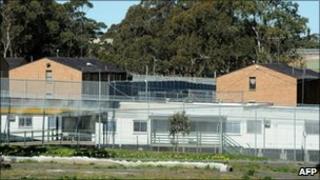 Australia has signed a deal with the Afghan government allowing for the involuntary repatriation of failed asylum seekers.
It is the first time such a mechanism has been put in place between the two nations.
As part of the deal, Australia will help Afghanistan upgrade its passport system.
Last year over 2,700 Afghans arrived in Australia by boat - more than double the number than from any other nation.
The agreement was signed in Sydney by Immigration Minister Chris Bowen and Afghan Minister for Refugees and Repatriation Dr Jamaher Anwary.
"Never before today has there been an involuntary return from Australia to Afghanistan. So this underlines the importance of today," Mr Bowen told ABC radio.
He said the move was aimed at dissuading Afghans from undertaking a perilous journey to Australia, and he said no one would be sent back to face persecution.
"Why can I say that confidently? Because if they were being returned to persecution they would have been accepted as refugees," he said.
As well as improving passport systems, Australia will also offer support for returning Afghans and funding for housing, a statement said.
'Pretty abhorrent'
Ian Rintoul from the Refugee Action Coalition says he was concerned by the deal.
"The idea that Afghanistan is a suitable place to be sending people back, and presumably this will potentially include unaccompanied minors, is a pretty abhorrent idea for most people," ABC News quoted him as saying.
Asylum - and in particular those arriving by boat - continues to be a hot political issue in Australia, with both parties talking tough on border issues.
Asylum seekers are subject to mandatory detention while their cases are decided. Those arriving by boat - a figure that increased sharply in 2010 - are sent to Christmas Island for offshore processing.
Late last year, at least 30 asylum seekers were killed when their boat went down just off the island.
Both on- and offshore centres have seen protests by detainees angry at conditions and the length of time it takes for their cases to be assessed.