Sino-US ties worse in 2010 says China survey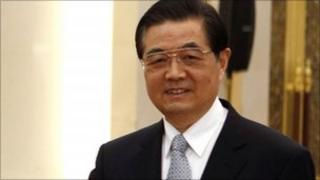 Just over half of the Chinese public believe that ties with the US have deteriorated in the past year, according to a survey in state-run media.
Some 80% said that Washington was to blame for the chill, the survey said.
But most believed that ties would remain stable or improve, it added.
The survey comes a day ahead of a three-day state visit to the US by Chinese President Hu Jintao who will arrive in Washington on Tuesday.
The president will then hold a full day of talks with President Barack Obama on Wednesday, as the two nations seek to smooth relations after a difficult year.
Trade and currency issues, plus North Korea are expected to dominate the agenda.
The survey, of 1,443 people, was conducted by the China Daily newspaper and the Horizon Research Consultancy Group.
More than 90% viewed the Sino-US relationship as important, it said. Those under the age of 30 had a more positive attitude towards Washington than older generations.
Some 53% said 2010 had seen a deterioration in ties between the world's top two economies, and more than four-fifths believed that the US-Japan security alliance was a threat to China.
But the China Daily said the majority of people surveyed believed relations would remain stable or improve despite recent turbulence.
And more than half thought maintaining good ties with Washington was important, the survey found.