Australia floods: Brisbane calls on 'Blitz spirit'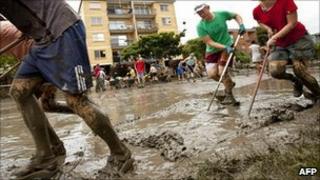 An army of mud warriors has been mobilised in flood-hit parts of Brisbane as Australia's third city begins clearing up after one of the country's worst natural disasters.
The volunteers have answered a call to arms from civic leaders and have turned up in their thousands with an arsenal of spades, brooms and hoses.
"It hasn't really affected us where we live so when we came here it was beyond my imagination," said 12-year-old Tom Yarnold, his clothes smeared with dirt after a morning spent attacking the grime at a bridal studio.
His sister Hannah, 11, was there too, showing solidarity with those whose businesses and homes were defenceless against the surging brown floodwater that invaded Brisbane's low-lying areas.
"I've been helping get mud out of people's places," Hannah explained. "I knew it was bad, but I didn't think it would be this bad because it was really muddy and smelly."
Brisbane has desperately needed such goodwill, as have other waterlogged parts of Queensland.
The task ahead is gigantic. Every inundated room has to be cleared, scrubbed and redecorated, while furniture must be replaced and electrical systems repaired.
Multiply this by several thousand properties across more than 80 flood-damaged communities in Queensland, and the assignment appears overwhelming.
The cost of fixing damaged roads, wharfs and other infrastructure can only be guessed at.
Government aid, charity donations and help from the military will provide the backbone of the recovery effort, but zest from the community will be needed in the hard months ahead.
"Some of the scenes we've been seeing today were like people saw in the Blitz back in the war days in Britain - piles of furniture and everybody out on the ground helping. It is a phenomenal coming together," said Sam Yarnold, who migrated to Brisbane from Hampshire with her children five years ago.
Memories of '74
On Haig Road in the city's Auchenflower district, one of many suburbs left stained by the floods, an earth-mover dumps household debris into lorries while volunteers brush, scrape and shovel what's left into plastic bags as the fire brigade's high-pressure hoses dislodge the sludge that has carpeted entire streets.
Tennis courts nearby are immersed in thick goo as yet more rubbish, this time a sodden leather sofa, is carted from a ruined house. To keep energy and enthusiasm levels up, free food is handed out and there's live music too from the Dave Dowell Four, a local ensemble that chirps away next to a tent set up by a church group barbecuing sausages.
A short distance away, cleaning is well under way at Joe Mangano's property, which already reeks of decay, its timber bones infiltrated by contaminated silt, as they were back in 1974 during the last big flood here.
"We talk about computers and how much memory they've got but the human brain is amazing. As soon as that stench arrived it took me back to when I was seven. It will stink for months," said Mr Mangano.
He has no plans to sell-up and retreat from this saturated riverside suburb, preferring instead to take his chances against the threat of Australia's notoriously wild weather.
"You've got to move on and look forward," he told the BBC.
Australia seems to be hard-wired to cope with floods, bushfires and droughts. Alan Grieve, a Baptist Church pastor, believes that Brisbane will be strong enough to handle this disaster but will have to remain vigilant.
"This is a flood plain and it is bound to happen again sometime. Some folks will give up and move on to higher ground and others will say 'Let's start again,'" he said. "As Aussies we won't be beaten - we'll get up and go again."