Outcry prompts retrial for Chinese toll dodger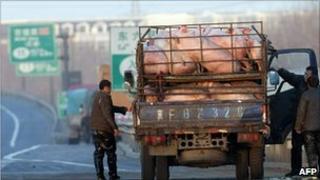 A Chinese farmer convicted of fraud after using military number plates to avoid paying road tolls is to be retried after an internet outcry over his sentence.
Shi Jianfeng was initially sentenced to life in prison for evading tolls of 3.7m yuan (£350,000; $560,000).
He was also fined 2m yuan.
But the court, in Pingdingshan, Henan province, decided to give him a retrial after an internet campaign criticising the sentence.
The farmer's two trucks made nearly 2,400 journeys delivering sand and gravel over a nine-month period.
He managed to avoid paying tolls by fixing military number plates - which allow toll-free travel - to his vehicles.
He was eventually caught and sentenced to life in prison.
The authorities said his toll bill was so large partly because he had been charged for overloading his trucks.
That could have been the end of the story, but then it went public.
People were angry and posted comments online critical of the harsh sentence.
Review
"The law is used against ordinary people. Those who dodge 3m yuan get life in prison, but those who embezzle billions get just a few years," wrote one commentator on the Tianya online forum.
The court in Henan province has now given in to that public pressure.
"The case drew media interest and heated debate as soon as the verdict was released," read a statement posted on Pingdingshan court website.
"Pingdingshan Intermediate People's Court reacted positively and immediately organised a group to carry out a review of the case."
That review found others could have been involved in the fraud, prompting the court to order a retrial.
This case shows the power of the internet to change the minds of Chinese officials.